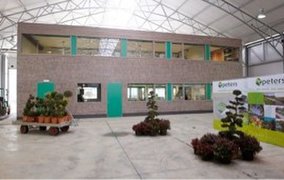 Contact data
Peters Belgian Outdoor Plants
Oude Kluisweg 9
3740 Munsterbilzen (B)
1. Customer Service

At Peters, we value customer service and quality. Our customer care and customer satisfaction are our permanent concern.
In our Cash & Carry we maintain the year through a very extensive range of high quality plants. Thanks to the structured arrangement of this stock and the provision of electric trucks, it is very easy for our customers to buy from us.
If you have not been able to find everything in our C & C or do not have the time to pick out the plants yourself, then there is always the possibility to place an order. Thanks to our extensive network of growers with whom we work together, we can have almost all types within the week in stock.
You can always count on respecting the agreements made and the smooth handling of your orders and price requests. In addition, we can support you with a number of logistical and other services:
Customization according to your specifications
Personalized labeling of your plants according to your guidelines (name, size, price, ...)
Transport and delivery to you or on the construction site
Other wishes? Talk to us.
2. Frequently asked questions (faq's)
Below you will find a selection of the most frequently asked questions. Be sure to check this out if you have a question. If your question is not listed, please contact us!

What are the delivery conditions?
See sales conditions.
Can I have my plants be delivered?
Delivery is possible throughout Belgium and the neighboring countries. Rates and free deliveries depend on the volume and the distance. Contact our sales department for more details.
How long in advance can I change my order?
You can change up to one week before delivery or collection. Afterwards, changes can only be made after consultation with the sales department.
How do I place an order?
Orders can be placed by email or fax. Soon we will have a new webshop and orders can also be placed online.
How long is an offer or quoted price valid?
An offer is valid for 1 month as standard. However, this may vary depending on the availability of a product.
Can I bring my (private) client to see the plants of Peters?
At our Cash & Carry we show only retail-prices or end-prices. This gives our customers the opportunity to bring their own (private) customer to select the plants together. Be aware that the private customer must always be accompanied by a garden contractor to have access to our sites.
I have a VAT-number. Can I then buy plants from Peters 'Belgian Outdoor Plants'?
Having a VAT-number alone is not enough. You also need to be active within the green sector, e.g. as a builder or plant center.
Who can buy plants from 'Peters Belgian Outdoor Plants'?
We are a specialized wholesaler that sells exclusively to the retail trade. Our customer base consists solely of professionals from the sector such as garden contractors, landscapers, florists, plant centers, etc.
How can I become a customer?
Becoming a customer can be easily done by filling in the contact form.
Order online